Yes!! 5 out of 5 in Vär
mlands Folkblad! "Rock drama that other bands can only dream about" and "Scandinavias most powerful answer to Bruce".
I think we'll have some champagne now. What a day!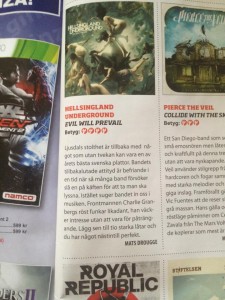 And 4 out of 5 in Swedens biggest men's magazine Slitz!
Here's an english translation:
"The pride of Ljusdal is back with something that without a doubt might be one of this years best swedish albums. The bands laidback attitute us liberating in a time when so many bands is trying to hit you in the face to make you listen. Instead, the band suck us into the music. The voice if frontman Charlie Granberg works the same way, he awakes interest without being pushy. Then add ten strong songs, and you have something close to perfect.
Mats Drougge"